nouvelles
MCA's GE15 'grand ceramah' in Cheras draws fewer than 30 people, in person and online
MCA's GE15 'grand ceramah' in Cheras draws fewer than 30 people, in person and online

Datuk Hoh Hee Lee, MCA's candidate for Bangi, gives a talk outside a coffee shop at the Cheras Traders Square in Balakong November 13, 2022. — Picture by Choo Choy May
By Kenneth Tee
Monday, 14 Nov 2022 11:35 AM MYT
BALAKONG, Nov 14 — The Barisan Nasional (BN) coalition's Chinese component hit a rough patch on the campaign trail in the highly urban Bangi parliamentary seat in Selangor last night.
It was pouring heavily and the blue marquee erected outside a coffee shop at the Cheras Traders Square was barely keeping the party's election campaign equipment from getting drenched.
BN's dacing (Malay for weighing scales) banners were sticking to each other and the posters of its candidate Datuk Hoh Hee Lee were dripping with water.
There were few people out and about on the street in one of the busiest commercial areas within the Bangi parliamentary district.
Inside the coffee shop, there were fewer than 20 people. Most of the people at the occupied tables appeared to be MCA organising members dressed in the BN blue and those few wearing regular casual clothes were dining, but some were listening quite attentively to Hoh's speech during the two-hour long "grand ceramah", conducted mostly in Mandarin.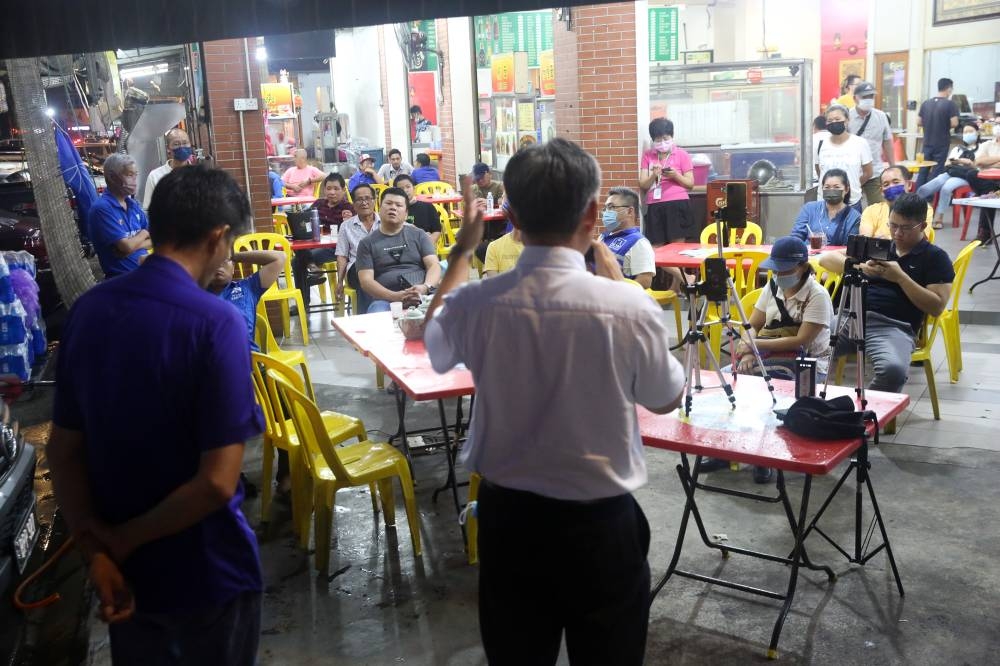 Members of the public listen to Hoh's speech at a coffee shop at the Cheras Traders Square in Balakong November 13, 2022. — Picture by Choo Choy May
"Every five years, every contesting political party will go out and canvas for votes.
"We at MCA are no exception either. So I am here as a representative of MCA and I am here to tell you why you should give us your vote," the 61-year-old said by way of introduction.
Hoh said no political party in Malaysia could truly claim they represent the welfare of the ethnic Chinese community, except for his party, MCA.
He then listed various achievements and initiatives under the BN-led government and call on voters to prioritise stability to prevent a repeat of the political crises that saw three changes in prime ministers within a span of four years.
"So give me a chance to allow MCA to represent the people of Bangi," he said in an open plea.
Hoh spoke using a microphone but his speech was drowned out a few times from the chatter from the coffee shop patrons.
One group at a table appeared intoxicated. But the patrons seemed to be listening to Hoh even as they were disrupting his speech, by directing jokes his way.
The MCA "grand ceramah" was also livestreamed on the party's Bangi Facebook account. But the "live" viewership did not exceed more than 10 people at any one time when Malay Mail took a close look at the screen.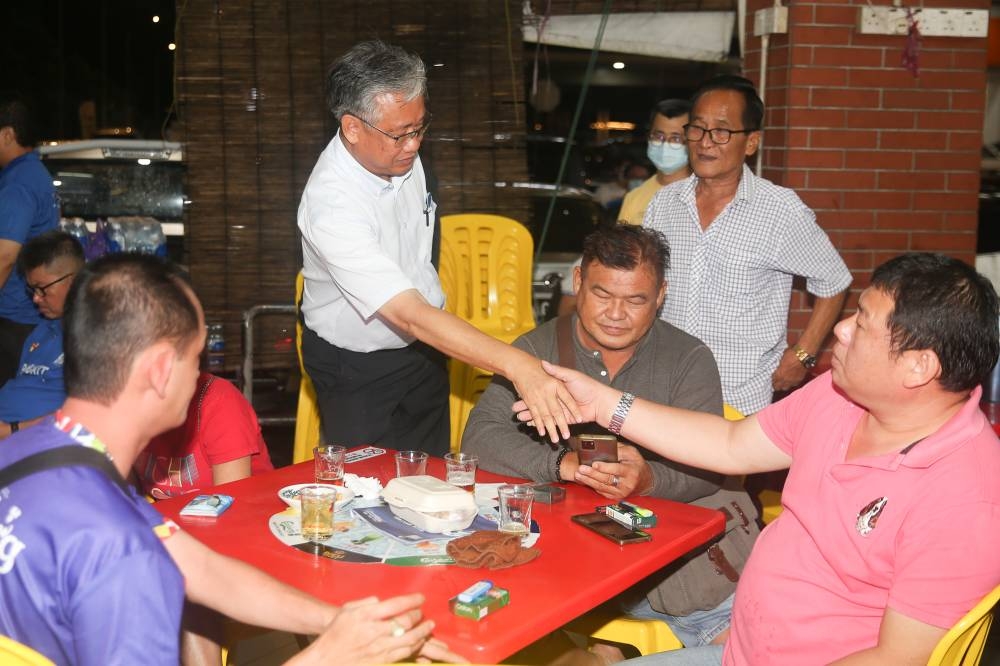 Datuk Hoh Hee Lee, MCA's candidate for Bangi, greets locals at a coffee shop at the Cheras Traders Square, Balakong November 13, 2022. — Picture by Choo Choy May
Speaking to Malay Mail later, Hoh conceded that his party was unused to going the ceramah route for elections as their past methods were to campaign door-to-door and going on walkabouts.
"It's not easy for our MCA ceramah. It will take time to build up. We need to have good speakers and give very good reasons to people [to vote for us].
"But at least we try to pass the message. Our duty is to tell the Chinese community why they need to choose us BN, especially on the service side," the three-term Balakong assemblyman from 1995 to 2008 said.
Hoh said he is still optimistic about the BN's chances this election despite having failed to be elected in 2008 when he contested. He said he had served Bangi constituents for over 14 years and would not give up easily.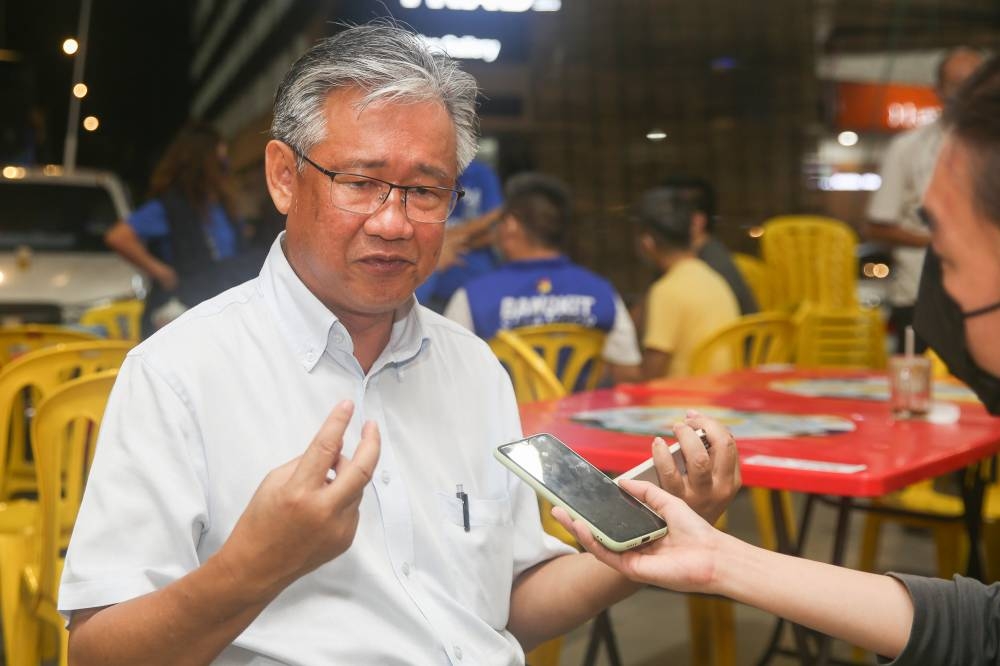 Datuk Hoh Hee Lee, MCA's candidate for Bangi, speaks to reporters at a coffee shop at the Cheras Traders Square in Balakong November 13, 2022. — Picture by Choo Choy May
Hoh previously ran for the Serdang parliamentary seat in 2008, before the constituency was abolished and renamed Bangi. He lost to DAP's Teo Nie Ching by a 21,025-vote majority.
In GE15, Hoh will face Syahredzan Johan from Pakatan Harapan (DAP), Muhammad Nazrul Md Nazir from Perikatan Nasional (PAS), Annuar Salleh from Gerakan Tanah Air (Berjasa), and Chee Chee Meng from Parti Rakyat Malaysia.
Two businessmen, Suthan Mookaiah and Muhammad Fauzi Hasim; and environmental health expert Dr Jamal Hisham Hashim will be contesting as independents.
#MCAs #GE15 #grand #ceramah #Cheras #draws #people #person #online