nouvelles
In Bentong, voters disappointed with DAP's Wong Tack not convinced with Liow Tiong Lai's return either
In Bentong, voters disappointed with DAP's Wong Tack not convinced with Liow Tiong Lai's return either

Mohd Khair Ghazali, 71, a former Felda employee said he does not understand why people are still willing to vote for BN despite the many corruption scandals it has allegedly been involved in. — Picture by Firdaus Latif
BENTONG, Nov 16 — On November 19, MCA's former president Tan Sri Liow Tiong Lai will be competing to be Bentong MP for the sixth consecutive time.
Liow, who is Barisan Nasional's candidate, had won the seat for four terms, from 1999 to 2018, before being ousted in the 14th general election by Pakatan Harapan's (PH) candidate Wong Tack.
Wong, however, was dropped by PH for the Bentong seat for GE15, with DAP secretary-general Anthony Loke himself saying that Wong had lost popular support among Bentong voters.
A Bentong local, 51-year-old construction worker Muhd Khair Zainuddin said: "I was an active PH member during GE14 and helped their campaign, but after winning, I can't say that Wong Tack did much here".
Wong has since decided to strike out on his own as an independent candidate for the seat, but it seems his campaign lacks teeth, as Malay Mail sighted only one election poster of him in Bentong in the past week, which was located at the side of the office of the Bentong MP.
Yet, despite the former PH candidate's failure to make a good impression on voters here, it seems that Liow's return is also not certain.
"Ask him (Liow) to go back lah, so many times he has won here, but what has he done," said a durian seller — who requested to be anonymous — who peddles near the Bentong Walk in the middle of the town here.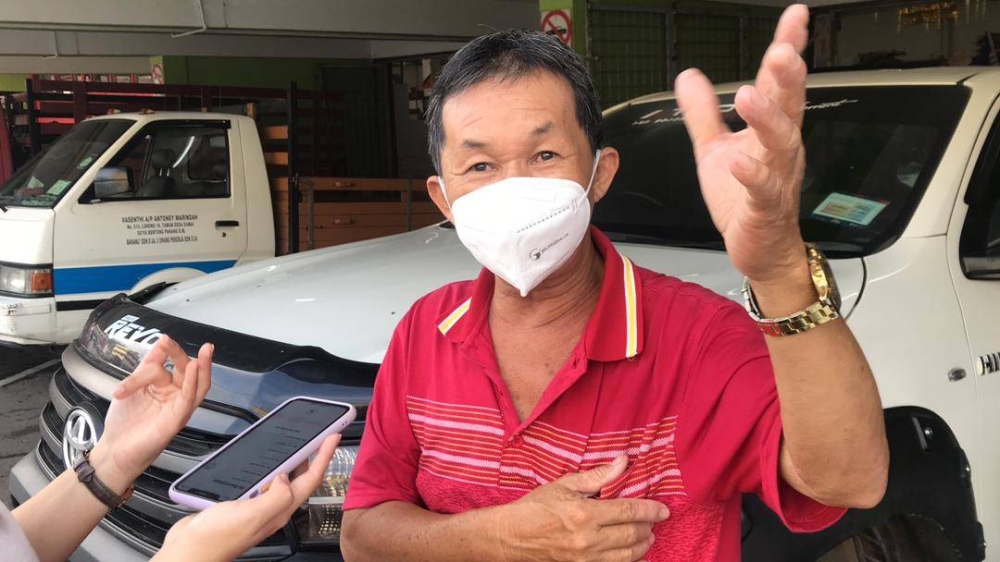 A retiree named Ma, 62, says that many among his social group support BN candidate Tan Sri Liow Tiong Lai. — Picture by Firdaus Latif
Meanwhile, a 62-year-old retiree who gave his surname as Ma said that many among his social circle were supporting Liow.
"If Liow wins, he will help all the people here. We want him to come back because we know he can offer more and bring new development to Bentong," he said.
Liow was formerly a transport minister, from 2014 to 2018, and health minister from 2008 and 2013.
During his campaign trail in the past week, he repeatedly asked voters to compare his tenure with that of Wong Tack's — bringing up the fact that Pakatan Harapan had moved to remove Bentong as a stop in the upcoming East Coast Rail Link (ECRL) project back in 2018.
Liow claims he had a big hand in Bentong being reassigned as a stop in 2020.
Liow is also a well-known figure among residents of the Federal Land Development Authority (Felda) settlements here, which have a mostly Malay population.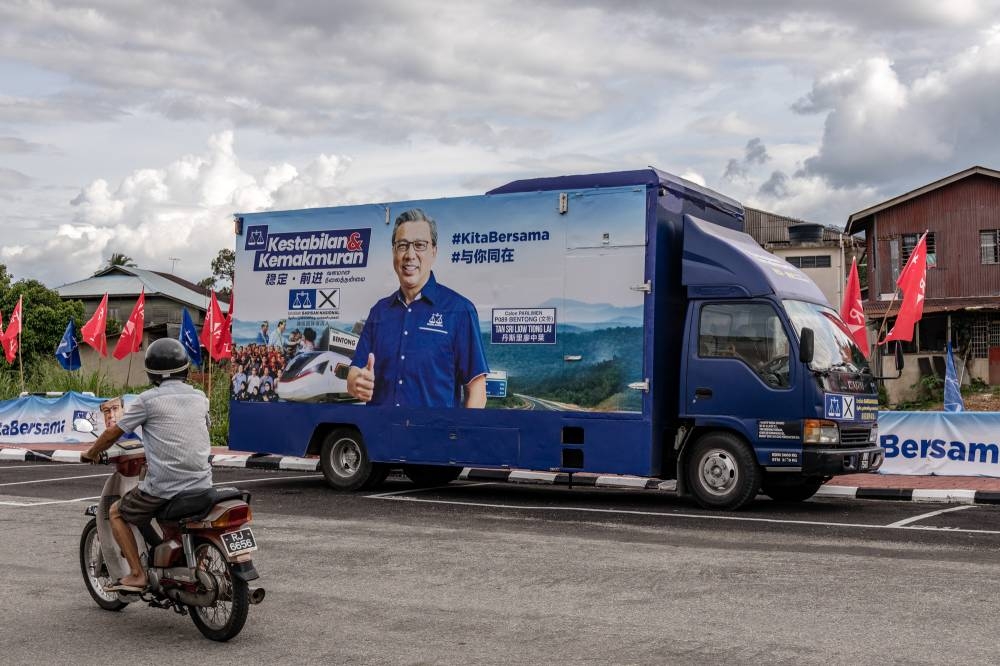 A campaign truck promoting Barisan's GE15 candidate for Bentong, Tan Sri Liow Tiong Lai, is seen near Kampung Pertin November 9, 2022. — Picture by Firdaus Latif
"He has come now and then, for school sports days, and other things. He is okay," said Suzana Zainal Abidin, 55, who works in the plantations at the Mempaga 1 settlement.
But even there, at traditional Umno — and by extension Barisan Nasional — heartlands, a sense of dissatisfaction with the coalition seems to be growing.
"You still want to vote for them? Even after Najib and the lot have stolen billions? People are supporting BN just because they hand out some money to voters," said Mohd Khair Ghazali, 71, a former Felda employee.
Meanwhile, Pakatan Harapan's candidate Young Syefura Othman seemed to be making inroads at the settlements here and in other Malay populated areas capitalising on the dissatisfaction with BN and rising living costs in Malaysia.
The former Ketari assemblyman is known among locals for actively helping residents during floods that occasionally hit Bentong in the past four years.
She has also leaned on the fact that she is the first woman candidate contesting in Bentong.
"Vote for me and Allah-willing I will bring the many issues that women and mothers face to Parliament," Young Syefura told a group of about 10 mothers gathered at the Mempaga 1 settlement last Friday.
The small crowd passionately applauded the end of her speech.
Young Syefura also seemed to be popular among the youth in Bentong partially due to her active usage of social media platforms.
Among three youths — aged between 20 and 22 — that Malay Mail spoke to, Young Syefura was the only candidate that they all knew the name of.
Only one youth had vaguely heard about Wong and Liow.
Aisy Hafiy, a 20-year-old barista, says PH's Young Syefura Othman is the only candidate he recognised among the GE15 candidates in his constituency. — Picture by Firdaus Latif
"I've also seen her around a lot, handing out aid and speaking to the community," said Aisy Hafiy, a 20-year-old barista.
Aside from BN and PH, the other coalition pushing for a win in Bentong is Perikatan Nasional (PN).
PN's candidate Datuk Roslan Hassan, on nomination day, said that most of his supporters will come from the outskirts of Bentong, such as Felda settlements.
However, despite having rows of flags set up both on the townside and the outskirts, PN seems to be struggling to gain support here.
"Just because you see flags doesn't mean they have support. They (PN) just pay people to put up flags here. I don't know anyone who supports them," said Ishak Nordin, a farmer at the Mempaga 1 settlement.
Aside from Liow, Wong, Young Syefura and Roslan, there will also be one more candidate standing for election here — independent candidate Khalil Abdul Hamid.
However, Malay Mail was unable to get a good sense of his campaign other than sighting several flags around the town showcasing his name and a group named Jihad Pembela Ummah.
#Bentong #voters #disappointed #DAPs #Wong #Tack #convinced #Liow #Tiong #Lais #return