Key events
Women's hockey: Nearing the end of the second quarter, England held a slender 1-0 lead against India. Giselle Ansley got the goal for the host nation.
Women's balance beam: Georgia Godwin of Australia leads the final with 13,433, according to the live scores on the official website.
Men's parallel bars: Marios Georgiou of Cyprus goes second with 14.533. Felix Dolci of Canada is second with 14,200.
The latest medal table is below. Australia leads the way with an incredible 72 medals in total. England are second with 58 and New Zealand are third with 24.
Women's balance beam: The final of this event is running alongside the men's parallel bars. Sofia Micallef of Wales produced an excellent routine a few minutes ago: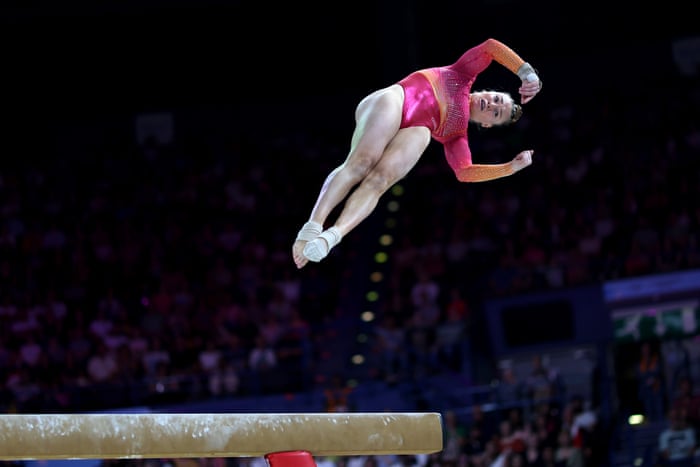 Women's netball: At the break between the first and second quarters, Jamaica lead Scotland 25-6 in their Pool A encounter.
Men's parallel bars: It's a score of 15.00 for Fraser of England! That's huge. His teammates, knowing that is going to be tough to beat, congratulate him on another world-class routine.
Men's parallel bars: Here comes Joe Fraser of England, who won gold on the pommel horse yesterday, despite still recovering from a fractured foot.
Wow! With the usual caveat about not being an expert in this sport … that was an amazingly clean and spectacular routine from Fraser. He dismounts almost perfectly at the end. Could it be another gold?
"He was absolutely solid … fantastic tension right through his body," marvels the commentator on the BBC.
If you missed it, here's our report of Fraser's pommel horse gold yesterday:
Men's parallel bars: The final has begun. I'll be keeping a close eye on this event, while desperately trying to keep across matters elsewhere.
Thanks John. In the women's cricket the final ball of South Africa's innings was a full toss that was tonked for four, but no matter. England are top of Pool B with two wins from two. New Zealand second (won one, lost one), RSA third (played two, lost two), Sri Lanka fourth (played one, lost one).
Right, that's your lot from me. The estimable Luke McLaughlin will be your guide for the rest of the action.
Cricket: England beat South Africa by 26 runs. A routine victory for Nat Sciver's side, who are well on their way to a place in the semi-finals.
Cricket: England have their second victory in the competition just about tied up – South Africa need an unlikely 41 runs from the final two overs.
Cricket: South Africa need 51 from the final 24 balls for victory over England. A very tall order but not out of the question.
Jake Jarman on his own would be sixth in the medal table. I think it's fair to say this Games has its first breakout star.
Jake Jarman wins fourth gold of Games in vault
Gymnastics: Samuel Dick of New Zealand is tidy enough but can't trouble the medal positions. So it's and England one-two! Jake Jarman takes gold, his fourth of the Games, while his compatriot Giarnni Regini-Moran takes the silver.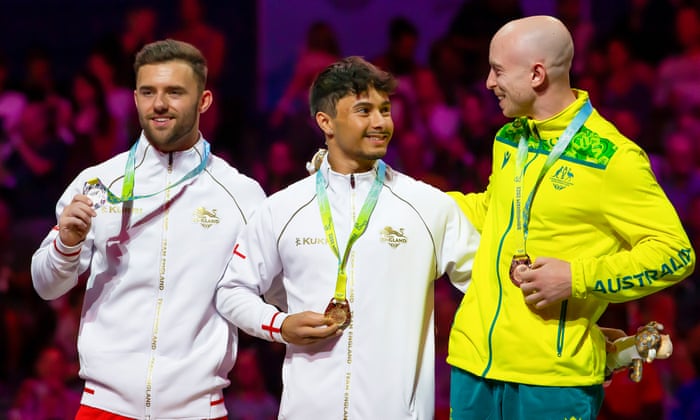 Gymnastics: Canada's Felix Dolci runs into fourth, so with one gymnast still to go, the English pair are guaranteed at least silver and bronze.
Gymnastics: England's Giarnni Regini-Moran, already with a couple of Commonwealth medals on his CV (bronze in the floor, gold in the team), gives himself a chance of a third with a couple of terrific vaults and moves into silver medal spot with three gymnasts still to perform. Malaysia's Muhammad Sharul Aimy is next up but can't trouble the English pair at the top of the leaderboard.
Gymnastics: Jake Jarman now. He storms into the lead with a massive 14,916 and that could well be enough to secure the 20-year-old his fourth gold of the Games.
Gymnastics: Australia's James Bacueti moves into early gold medal position, although again his second landing wasn't perfect.
Gymnastics: Wales's Emil Barber kicks off the vault competition and fails to nail a landing in either of his two jumps. Northern Ireland's Ewan McAteer is next up and he moves ahead of the Welshman despite a poor landing with his second jump.
Cricket: South Africa's progress remains steady – they're 69 for one after 10 overs.
Over to Arena Birmingham (it'll always be the National Indoor Arena to me) for the gymnastics. England's Jake Jarman already has three golds in his pocket from these Games and has the opportunity to bag another today in the vault, first up this afternoon.
Cricket: South Africa's chase has begun steadily at Edgbaston – they're 46 without loss after seven overs, chasing 168 to win.
Athletics: Katarina Johnson-Thompson fails with her third and final attempt at 1.87m in the heptathlon high jump.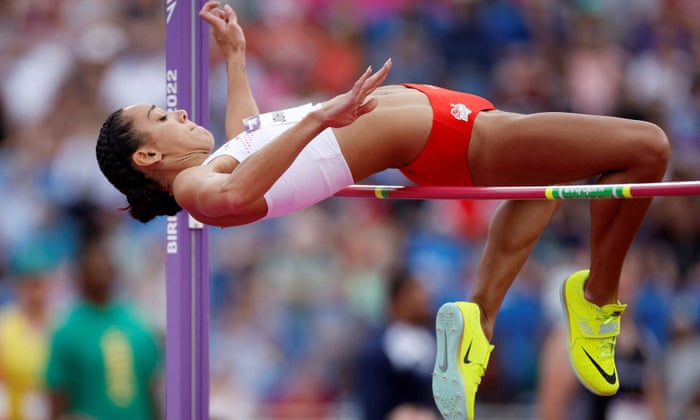 Athletics: Katarina Johnson-Thompson goes clear at 1.84m in the heptathlon high jump. That's already 6cm higher than anyone else.
Table tennis: England have claimed a bronze in the men's team event with a 3-0 win over Nigeria.
Just to mark your card, a few of the highlights coming up today:
Gymnastics: 1pm: Five golds up for grabs in the final session of the Games
3×3 Basketball: Bronze medal matches: 4pm: Scotland v Canada (men's); 4.30pm: Australia v New Zealand (women's). Gold medal matches: 8.30pm: Australia v England (men's); 9pm: England v Canada (women's)
Judo: 5pm: Plenty of medals up for grabs in the evening session
Swimming: 7pm: 10 finals, including the mixed 4x100m medley relay
Athletics: Katerina Johnson-Thompson has cleared 1.78m in the heptathlon high jump. Meanwhile on the track Elaine Thompson-Herah, the 100m and 200m Olympic champion, has unsurprisingly eased through the women's 100m heats.
Cricket: England have registered 167 for five in their T20 fixture against South Africa. 17-year-old Alice Capsey made 50, while there was some hefty lower-order hitting from Katherine Brunt (38 from 23) and Amy Jones (36 from 23).
Hello everyone. Some news from the track to kick us off.
Athletics: Scotland's Laura Muir, the Olympic 1500m silver medalist in Tokyo and a bronze medalist in the same event at the worlds in Eugene last month, has eased through into the final of the women's 800m. Keely Hodgkinson, Olympic and world silver medalist in the 800m and favorite to pick up gold in Birmingham, also cruised through in the third and final heat.
Righto, my watch is over; here's John Ashdown to ease you into your afternoon.
Athletics: With the men's 100m heats done, now under way we have the heats of the women's 800m and the long jump of the women's heptathlon.
Cricket: England lose another wicket, a mix-up leading to the run out of Maia Bouchier! It's now 94-5 off 13, and from a position of apparent impregnability, we have ourselves a ball-game!
Cricket: England are now 93-3 off 12.4; Alice Capsey has reached her half-century, but Nat Sciver is out … and now so is Capsey, flogging Malaba a return catch! Mlaba is delighted!
Maya Lylor of Canada takes gold in the women's 76kg weightlifting!
Taiwo Liadi of Nigeria nabs second, Maximina Nuepa of Nauru bronze – and Deborah Alwode of DEngland is just out of the mdeals in fourth.
Athletics: More sprinting joy for Kenya: Samuel Imeta wins heat nine, Rohan Browning of South Africa taking second.
Table tennis: In the men's team bronze-medal match, England have taken the lead against Nigeria thanks to a doubles win.
Cricket: England are going nicely, 78-2 off 9.4; Alice Capsey is 39 not out and Nat Sciver 11 not out.
Athletics: Conroy James of Jamaica wins heat eight of the men's 100, Adam Thomas of Scotland follows him home.
Weightlifting: Deborah Alawode of England takes out 119kg – that puts her second overall – then Taiwo Liadi of Nigeria gets up 120kg.
Athletics: Ghana's Benjamin Azamati streaks away with heat seven of the men's 100m. Three more to go, and I don't think we're any the wiser as regards who might win.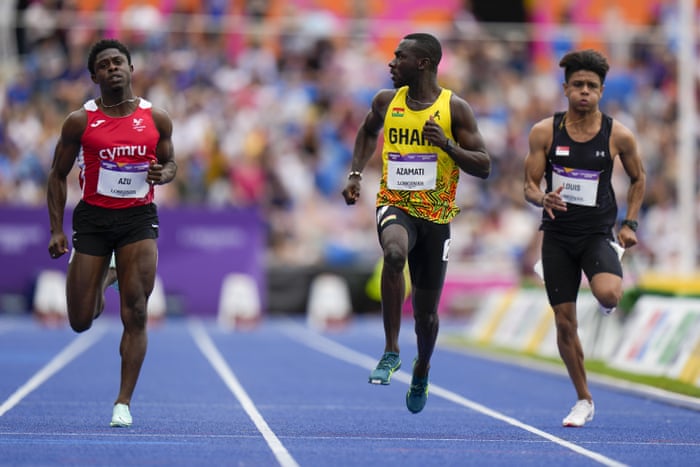 Weightlifting: It's getting tense in the women's 76kg final. We're into the clean-and-jerk portion – mmmm, jerk – and Maximina Uepa of Nauru has just nailed 117kg.
Cricket: i should remind you, England beat Sri Lanka in their first match, while South Africa – who are missing the excellent Marizanne Kapp, home for personal reasons – lost to NZ.
Cricket: England are playing South Africa and, having been inserted, have just lost Danni Wyatt. They're 43-2 off 5.1.
Swimming: Kylie Masse, who's already won silvers in the 100 and 200m back just won her 50m heat.
Athletics: Yupun Abeykoon powers home to win heat six; Oghenebrume comes second. Well done him.
Athletics: Ach, Godson Oghenebrume seems to overbalance on the blocks falling, and will he be disqualified for that? The runners are called back, but he stays. Good. Can he keep the heat?
Athletics: Omanyala's time of 10.07 is, we're told, perhaps the fastest recorded at this stage of the Games. He tells the BBC he's hoping to put Kenyan sprinting on the map.
Athletics: Omanyala of Kenya and Esseme of Cameron streak away in heat five of the men's 100.
Swimming: Ben Proud of England, the world and Commonwealth 50m free champ, has eased through to the semis.
Athletics: Raymond Ekevwo of Nigeria wins the heat in 10.14, a hundredth in front of Kemar Bailey-Cole of Jamaica, who turns to stare as they cross the line – essentially saying he could've won that race had he chosen to. And it's a great picture because Ekwevwo is about 5″7 and Bailey-Cole 6″3, so it's like a Dad and lad.
Athletics: Raphael Ngaguele Mberlina false starts in heat four of the men's 100m, and really that is a nonsense rule. As far as I recall, it's to ensure that races fit into prescribed TV schedules, and it makes no sense to punish a slight infraction so severely.
Swimming: Egnalnd's Holly Hibbert is into the women's 200m butterfly final, but Australia's Elizabeth Dekkers is a strong favorite for gold; she was the fastest qualifier, and followed home by her teammate, Abbey Connor.